06/01/2023
ICTU International Student Exchange – Welcome Spring of the Year of the Rabbit 2023
Traditional Tet attracts special attention from foreigners, especially foreign students living and studying in Vietnam. On the eve of the new Spring, foreign students who are studying at University of Information and Communication Technology (ICTU) had the opportunity to exchange and learn about the traditional culture of the country where they are studying in, the program "ICTU international student exchange – Welcome Spring of the Year of the Rabbit 2023" was held on January 5, 2023.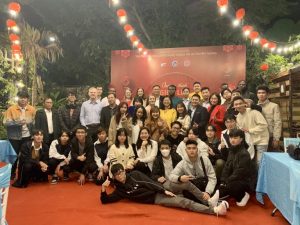 This program aims at strengthening the connection between students and the university, at the same time, promoting the ICTU-KNU twinning program, and Vietnamese language training courses for international students at ICTU as well as improving the English language for students of KNU classes and Vietnamese proficiency for international students. The Exchange Program has specially created opportunities for international students to learn about the traditional Tet in Vietnam. The program has the participation of the following units and guests: Dr. Vu Duc Thai – Vice Rector, President of the ICTU Trade Union; Dr. Do Dinh Cuong – Vice Rector; 3+1 ICTU-KNU International Twinning Program Coordination Committee; Center for Information Technology, Foreign Languages and Training on Demand; Center for Communication, Admission and Student Support; lecturers involved in teaching the ICTU-KNU Program; international students who are studying Vietnamese at ICTU and students of KNU classes K19, K20, K21.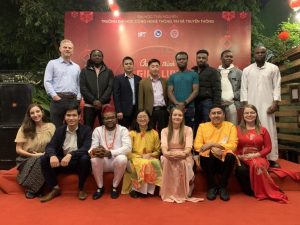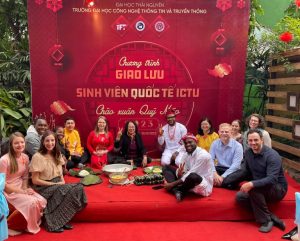 Interestingly, the Lunar New Year is not only important to Vietnamese people but also attractive to foreigners, especially foreign students studying in Vietnam. Tet leaves them with quite special impressions.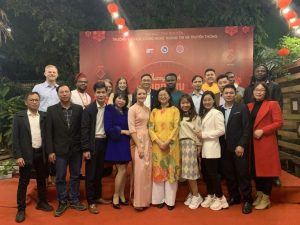 The program of connecting and exchanging ICTU international students and students studying in the twinning program between ICTU – Kyungpook National University (KNU) took place successfully and affirmed the ICTU brand in the process of education internationalization.
The program took place in a warm atmosphere, creating a traditional Tet atmosphere in Vietnam for foreign students, eliminating the geographical, space, time and cultural distance between countries around the world.